Welcome to New York Ramps!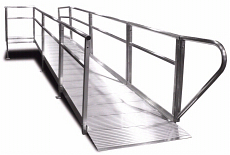 New York Ramps is still Long Island's most experienced installer of Handicapped Ramp Technology.
New York Ramps serves all five New York Boroughs. We are close by, so we can offer you the fast service you need.
We file all plans for you for the proper permits in the New York City area, both Commercial and Residential.
We conform to the 2010 ADA Standards for Accessible Design.
Call us today for a friendly no-obligation quote!
Based in Long Island, New York
20 Years experience - no one else even comes close
Ramp installations for hospitals, schools, firehouses, churches, doctor's offices
We offer commercial ramps to code for NYC
We have portable ramps in stock! Call to find out more!
Most affordable value for your money
Factory authorized for the fastest and safest ramp installation
Fully Insured and carry stairlift, ramp, and elevator insurance
Properly insured for all commercial and residential jobs
We handle NYC Dept. of Building Permits and suitable drawings
We are happy to provide the necessary permits for your job and work with your Architect
Reliable ramp installations with 20 years certified experience
Our Ramp Install Specialists will install your ramp to comply with the Americans with Disabilities Act.
We also install steps and safety gates
Foot of ramp installs flush against all types of surfaces - concrete, asphalt, stone - even bricks walkways.
Special installation procedures to secure your ramp against any type of wall, including bricks and concrete
Specialist in ramps for schools and government buildings
Gentle and safe slopes to help a controlled wheelchair descent
Safety angles to meet any requirement
Solid and secure safety railings are part of each installation
All-weather ruggedized surface
Ask about our experience with disabled children
Read our Stairlift Blog for more information
All materials made in America!
No challenge too great, no install too small.
Call Us For A Free Evaluation
Interested? Call us at 631-842-1065 Today!
Notice to all Physical Therapists in the Long Island and Metro New York area: Contact us now for a special deal (limited time offer). Highest commissions Paid.
Our Address:
New York Ramps
550 Route 110
Amityville, NY 11701
Sales & Information:
631-842-1065 Ph
631-842-5365 Fax

Stairlifts@newyorkstairlifts.com
We are also New York Stairlifts, where you are welcome to see some of our Ramp Install Photos.